The electric-truck manufacturer is allegedly de-prioritizing regions where it hasn't set up service centers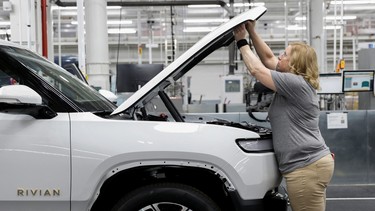 Article content
A number of prospective Canadian electric-truck buyers have been taking to the Internet to complain about delays allegedly being announced by American EV-maker Rivian. 
Article content
We apologize, but this video has failed to load.
Owners report Rivian delaying Canadian deliveries until 2023
Back to video
Muscle Cars & Trucks was one of the first to report on the conversations going on in the Rivian Owners Forum, which detail the frustration of multiple Canadians who say they've received letters from the company notifying them the trucks they'd ordered may see their deliveries delayed by up to one year. 
The thread's original poster, 'Jarateng,' says they ordered the Launch Edition R1T in 2020 for late summer 2022 delivery, but have now been told their electric pickup won't arrive until the second half of 2023, potentially a full year later than promised. 
"Happy Canada Day from Rivian," the post opens, going on to explain how the automaker tried to let them down gently. Here's part of what the letter said, according to Jarateng: 
Article content
"Thank you for your preorder and your commitment to helping us create a more sustainable world. As we continue to assess our supply chain and build plans, we want to provide an update on your estimated delivery window. Your Launch Edition package R1T estimated delivery window is the second half of 2023…Your delivery window estimate is based on your preorder date, delivery location and current configuration."
The letter goes on to list "supply chain" and "service infrastructure" issues as the reasons for the delay, basically saying that those buyers who live in areas where Rivian does not have readily available service are being treated as low-priority. So, all Canadians then?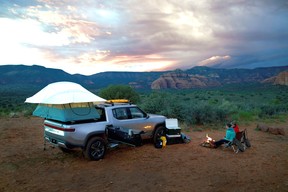 Another "disappointed early adopter Canadian" chimed in below to echo the sentiment, saying his 2019 order has been pushed back to December, or January 2023. "Honestly disgusted with the lack of communications from Rivian and these delivery dates mean absolutely nothing after constant pushbacks of dates," writes user TessP100D.
Article content
"It shows lack of planning for a Canadian launch and it goes well beyond supply chain issues. If they were upfront and honest about it I would have a lot more respect for the organization but at this point not knowing if the Dec/Jan23 ends up being 2024, 2025 I have no choice but to look at getting in queue for a purchase with another manufacturer. Never have I had such highs and lows with a vehicle purchase before even receiving it."
We've reached out to Rivian, which last month announced it would be cutting hundreds of jobs, or around 5 per cent of its work force, for more information about why and how many Canadians were sent the delay announcements, and will update this story when we hear back.